February 15 (Thursday)
On-line Registration Opens

March 1 (Thursday)
Spring Registration Night (7:00 - 8:30 pm)

March 7 (Wednesday)
Registration Night (7 - 9 pm)

March 23 (Friday)
On-line Registration CLOSED

March 24 (Saturday)
Registration Day (9 am - 12 pm)

July 23 (Monday)
Challenger Sports - Summer Soccer Camp Week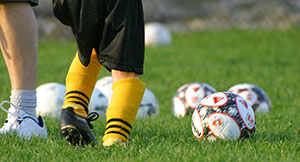 News
Game Nights for 2018 Outdoor Season
(February 15, 2018)
Game nights for 2018 Outdoor Season
Open Men's and Women's - Sunday or Monday
Birth Years for Age Groups Outdoor 2018
(February 12, 2018)
Birth Years for Age Groups Outdoor 2018
| | | |
| --- | --- | --- |
| Under 5 - 2013 | Under 12 Girls - 2006 & 2007 | Under 18 Girls - 2000 to 2002 |
| Under 6 - 2012 | Under 12 Boys - 2006 & 2007 | Under 18 Boys - 2000 to 2002 |
| Under 8 - 2010 & 2011 | Under 15 Girls - 2003 to 2005 | Open Women - 1999 & up |
| Under 10 - 2008 & 2009 | Under 15 Boys - 2003 to 2005 | Open Man - 1999 & up |
Registration Fee for Outdoor 2018
| | | | | |
| --- | --- | --- | --- | --- |
| | U5 & U6 | U8 & U10 | U12, U15, & U18 | Open Age Group |
| Registration Fee | $45.00 | $80.00 | $100.00 | $120.00 |
| Uniform Fee | 25.00 | 25.00 | 25.00 | 25.00 |
| Total Fee | $70.00 | $105.00 | $125.00 | $145.00 |
Registration on-line is available from Feb 15 to March 23.
Payment MUST be completed on-line if registering on-line.
Challenger Sports - Summer Soccer Camp
(January 2, 2018)
Hanover Minor Soccer Club

is pleased to announce partnership with Challenger Sports, providers of North America's most popular soccer camp, to host a week long British Soccer camp -

July 23rd - 27th

at

Hanover Minor Soccer Fields, 820 16th Ave N, Hanover, ON, N4N 3T1.
Each child will be coached by a member of Challenger's British coaching staff flown into Canada exclusively to work on these programs. This year Challenger will hold over 3,500 British Soccer Camps this summer and will coach over 150,000 players between the ages of 3 and 18, as well as completing FREE coach education clinics for over 40,000 parents and coaches.
Challenger's British Soccer Camps are more than a week of drills and skills. In addition to taking part in a daily regimen of foot skill development (through the 1,000 touches curriculum), technical and tactical practices and daily 'World Cup' tournament style plays, each child will be treated to a rich cultural experience and lessons on respect, responsibility, integrity, leadership and sportsmanship. Challenger will consult Hanover Minor Soccer Club on the camp level also, as each camp is custom built to meet the needs of the players.
Each camper will receive a FREE camp T-shirt, soccer ball, soccer poster, individual skills performance evaluation and free access to an educational soccer website. In addition, any child who signs up online by

June 8th

will receive a genuine British Soccer replica Jersey for just the cost of the shipping... (valued at $39).
Corporate Sponsors
Game Calendar
Team Sponsors
Weather
Contact Us
P.O. Box 20023 Station Main
Hanover, ON
N4N 3T1
president@hanoverminorsoccer.ca